Elite Runners Ready for Saturday's Blue Shoes Mile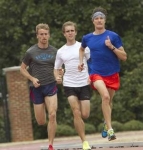 April 12, 2013
Women finally get a Blue Shoes Mile of their own
By Mike Foley, Greenville Online
Alan Webb won't be here in Greenville on Saturday afternoon. But the American Mile record holder's meet and state record will be up for grabs at the Furman University track.
There, at 4:55pm, more than a dozen Milers will take a shot at Webb's Mile time of 3:57.83 set during the inaugural edition of the Blue Shoes Mile in 2007. That sub-4 minute Mile was the first one run on South Carolina soil and it remains as the state's fastest Mile.
If conditions are good — the forecast calls for a mid-70s temperature and 9 mph winds — then Webb's Mile time could tumble. Mickey McCauley, the elite athlete coordinator for the Blue Shoes Mile, said this year's lineup doesn't have a runner like Webb, but it is a top field.
Continue reading at: greenvilleonline.com