Endurance: Cramming it in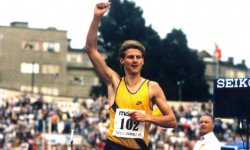 August 10, 2015
With his British and European Mile record having lasted 30 years, Matt Long and David Lowes look at the training philosophy of legend Steve Cram
By David Lowes, Athletics Weekly
On a late summer evening on July 27, 1985, in the Norwegian capital city of Oslo, a 24-year-old in the club vest of Jarrow & Hebburn AC is up on his toes with 70 meters of the "Dream Mile" remaining.
BBC commentator David Coleman is screaming into his microphone: "And the world champion, the European champion, the Commonwealth champion and the world record holder at 1500 meters majestically comes striding away. This time is it to break the world record? Yes it is!"
Steve Cram had stopped the clock at a staggering 3:46.32.
Here we look at how he was able to achieve it and join that elite band of super-Milers in producing a performance which has remained a British and European record for 30 years.
Continue reading at: www.athleticsweekly.com