Exclusive Interview: Leo Manzano, Track & Field Olympian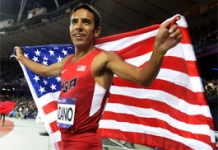 September 04, 2012
By Rebecca Villaneda, HispanicBusiness.com
Leo Manzano, 27, is still on a high from taking home the silver for the men's 1500 meter final on Aug. 7 at the 2012 London Olympics.
And he should be. It was the first time an American won a medal in that race since Jim Ryun won a silver in 1968. To make the win sweeter, Ryun reached out to Manzano to congratulate him. Ironically, Ryun won silver in 1968 in Mexico City, in Manzano's native country.
Manzano and his family moved to Texas when he was 4 years old. The first in his family to graduate from high school, he attended the University of Texas on a track scholarship and became a five-time NCAA champion and an 11-time NCAA All-American. He graduated with degrees in Spanish and Portuguese, and a minor in business.
Monzano's enthusiasm for his sport and culture is evident as he shares with HispanicBusiness his most recent Olympic experience.
Continue reading at: hispanicbusiness.com