F-M's Miler Nick Ryan Closes Book on High School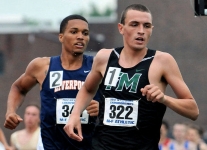 July 13, 2013
Ryan ready to write new story at Syracuse University
By Nolan Weidner, Syracuse.com
Syracuse University coach Chris Fox lets the question hang in the air a few seconds, considering it with a kind of half-smile, as if to ask, 'Really?'
A reporter has wondered just what it was that Fox, who runs the cross country and track and field programs at SU, saw in local runner Nick Ryan.
"Well, I mean, he ran 4:05 in the Mile as a junior," Fox said of the runner's flirtation with that magical four-minute standard. "That's a pretty good indicator."
Ryan's state-meet-winning time of 4:05.24 in the 1,600 meters, recorded in a classic showdown with Liverpool's Zavon Watkins in June 2012, was just one of the reasons the coach really wanted the Fayetteville-Manlius star at SU.
Fox, who in eight years has turned the Orange cross-country teams into perennial Top 20 programs, has 10 runners returning this fall to a men's squad that won its third Big East title in four years and finished 15th in the NCAAs last November.
The men's team will be one of the favorites in its first year in the Atlantic Coast Conference, and Fox said he's looking for Ryan - who chose SU over Wisconsin, Virginia and Michigan -to contribute immediately.
One of the things about Nick Ryan, coaches say, is that he's able to push himself to perform well even when he's way out in front of the pack, as was the case April 26 when he easily won the Fleet Feet Mile at the Chittenango Invitatioinal.

"We thought he was the best runner in the country going into (last) fall. And he was, we think still, the best runner in the country - at least (as far as an) American high school cross country runner," he said. "He's probably the first freshman that we think can have an impact right away. Normally we redshirt our freshmen."
Continue reading at: syracuse.com