Festival of Miles Hosts RRCA National 1 Mile Road Championships in Tucson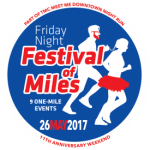 May 19, 2017
Second edition offers $3,156 prize money in the Open, Masters and Tutu Mile divisions
From Run Tucson
TUCSON – On Friday evening, May 26, the RRCA National 1 Mile Road Championships will be contested in downtown Tucson, Arizona at the Festival of Miles. The second edition features a $3,156 prize purse for the Open, Masters and Tucson Tutu Mile divisions. In addition, the winning team in the Battle of the Badges earns $300 to donate to a charity of their choice. The Battle of the Badges Mile is a race solely for first responders in Southern Arizona, with teams from the City of Tucson Fire Department, the Border Patrol, the City of Marana Police Department and other civil servants.
Speedsters can also shoot for the Race Director Challenge: the top male who beats race director Randy Accetta's personal record in the Mile of 4:08.9 or top female bettering 4:48.9 (Mercier Score Calculator adjusted time) will earn a bonus of $408.90.

As the RRCA National Championship, special medallions will be awarded to the first man and first woman in four separate divisions: Open, Masters (40-plus), Grand Masters (50-plus) and Super-Grand Masters (60-plus). The RRCA Championship Event Series is the largest grassroots organized running series the USA, attracting more than 320,000 participants each year.

At the inaugural Festival of Miles in 2016, Wes Strum ran a 4:11 to take first place, while Amy Cole clocked 5:17 as women's champion.

Offering 7 separate divisions of Mile races, the Festival of Miles is a Featured Event in the acclaimed Bring Back the Mile national campaign, founded by Ryan Lamppa. Showcasing America's best Mile events, the BBTM series celebrates the iconic distance.
The following night, Saturday, May 27, will see the TMC Meet Me Downtown 5K Night Run, with $3,650 in prize money for top finishers, Masters, team awards and course record bonuses.
Additional festivities on both nights include live music on the course, stilt walkers, fire show, free entry to the Children's Museum, the fifth annual "Food Truck Running Race Round-Up", Amstel XLight Beer Garden and the after-party at the historic Hotel Congress.
Visit http://azroadrunners.org/races/detail/mmd to register or for more information.