Field Set in Girls' Dream Mile for adidas Grand Prix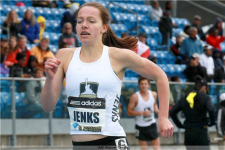 June 12, 2014
Stephanie Jenks of Iowa top qualifier; teen phenom Alexa Efraimson to contest women's Open 1500 meters
NEW YORK - Stephanie Jenks (Aurora, IA), #3 on the U.S. prep list this season in the Mile and #5 in the 1500 meters, leads the field for the adidas Girls' Dream Mile at the 10th adidas Grand Prix on Saturday, June 14, organizers have announced.
Jenks, a sophomore, is the 1600m champion of the 2014 Kansas Relays. She was runner-up at 5000 meters at the 2014 New Balance Indoor National Championships and fifth in the Mile, and has qualified for the Youth Olympic Games later this summer in the triathlon.
Alexa Efraimson (Camas, WA), who recently ran 4:33.29 to break the U.S. high school record for 1600 meters, has opted to test her skills at 1500 meters in the women's Open race against a field that includes 2011 IAAF World Champion Jenny Simpson. Elise Cranny has withdrawn from the event.
Challenging Jenks in what is shaping up to be an exciting race in which anyone could emerge victorious will be:
Audrey Belf (Birmingham, MI), Division 1 state Cross Country champion and 2-Mile runner-up in the 2014 NB Indoor Nationals
Lucy Biles (Herriman, UT), 5A state champion at Cross Country; 800m, 1600m, and 3200m
Haley Dorris (Temecula, CA), adidas Azusa Meet of Champions winner, 1600m; 2014 state indoor 2-Mile champion
Ellie Gonzalez (Baltimore, MD), #4 U.S. in the Mile; runner-up 2014 Penn Relays Girls' High School Mile
Sarah Feeny (Ogden, UT), 4A state champion 800m, 1600m, 3200m; state record holder 1600m and 3200m
Hannah Long (Eureka, MO), Class 4 state champion 800m, 1600m, 3200m; 2013 Gatorade Missouri Track & Field Athlete of the Year
Danielle Jones (Phoenix, AZ), 2014 Golden South Classic champion in the Mile; Division 1 state champion 1600m and 3200m
Brianna Schwartz (Pittsburgh, PA), 2014 state indoor Mile champion; 2014 #1 U.S. 1600 meters indoors
Kennedy Weisner (St. Mary's, PA), Runner-up, 2014 Millrose Games high school Mile; 2013 state Cross Country champion.
Tickets for the event, which is marking its 10th year of bringing the world's top athletes to Icahn Stadium on Randall's Island, are on sale now at www.adidasgrandprix.com or by calling 1-877-849-8722.
The adidas Dream Miles and Dream 100 races will be shown live on USATF.TV between 3:00pm and 4:00pm EDT, and will be shown in capsule form on NBC Sports Network, which will broadcast the meet live from 4:00pm-6:00pm EDT. USATF.TV will resume coverage of the meet from 6:00pm-6:30pm, before its "Cool Down" show begins.