Fisher, Aragon Win HS adidas Dream Mile Crowns in NYC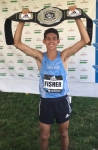 June 13, 2015
Records set by Aragon (4:37.91, meet and Montana state) and Ryen Frazier (4:38.59, North Carolina state)
By Jim Gerweck, Mile wire
NEW YORK – Ten days ago, teenager Grant Fisher would have been ecstatic to run a 4:01 Mile.
Then came the Nike Festival of Miles in St. Louis, where the Stanford-bound senior from Grand Blanc, Michigan became just the seventh American high schooler to crack the coveted 4-minute barrier for 4 laps, running 3:59.38 to equal to the hundredth of a second the time set by Matthew Maton a few weeks earlier.
"That certainly took a huge amount of pressure off me coming into this meet," said Fisher, 18, referring to the adidas Grand Prix Meet at Icahn Stadium, where he would face a dozen of the best 4-lappers in the country in front of a packed stadium.
"Breaking four meant I could concentrate on racing and winning here, instead of going for a certain time," he continued. "But it also made me sort of a target, knowing that the other guys would be gunning for me even more. And given the caliber of the field, I knew that unless the weather was terrible, the times were going to be pretty fast anyway."
In spite of temperatures in the 80s and a swirling wind off the East River, Fisher kicked off a tactical first three laps, passed in 3:05, to clock a winning 4:01.73, .63 seconds ahead of Penn Relays Mile champ Andrew Hunter, with mid-race pacesetter Mike Brannigan at 4:03.18 in third. The lead trio pulled another half dozen behind them under the 4:10 mark, making the race one of the deepest scholastic Miles ever contested on U.S. soil, and overall, 5 boys set personal records at the 6th HS Dream Mile edition.
"I just tried to run comfortably and stay in a good position the first half of the race," said Fisher. "If I hadn't broken four nine days ago I think I would have been a lot more aggressive and tried to stay right with the rabbit from the gun."
The boys and girls Dream Miles bookended the televised portion of the meet, the halfway split of the 14-fixture Diamond League schedule of meetings, and both provided scintillating finishes.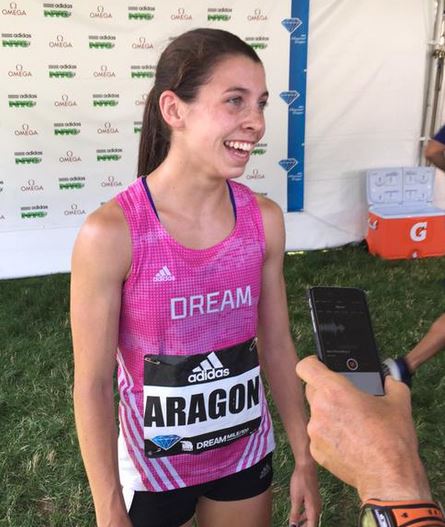 In the girls race, Christina Aragon (left), a junior from Billings, Montana, got the jump on U.S. leader Ryen Frazier of Raleigh, NC midway through the final turn, then held off the Prefontaine Classic winner by half a second, lopping nearly three seconds off her PR for a 4:37.91 victory and meet record (old mark, 4:39.17, Wesley Frazier (NC), 2013), with Frazier runner-up in 4:38.59 (also breaking her sister Wesley's state record 4:39.17). Overall, 5 girls set personal records including the top 4. Aragon also become the third fastest U.S. high school-only female performer in the storied distance (only Sarah Bowman (4:36.95 in 2005) and Ari Lambie (4:37.23 in 2003) are faster).
"I was a lot more comfortable here than I was at Pre," said the winner, who won the Mile at the Stanford Invite earlier this season. "That was my first experience running in a pack of girls who were as fast as me, and it helped today."
Even with that added confidence, Aragon, whose father Chuck was a sub-3:52 Miler in the 1980s, was thinking time rather than place coming into the meet. "I was mostly hoping to PR, knowing there were lots of girls who could run fast, figuring if it went well I could go under 4:40."
The pack stayed mostly intact through the halfway point at just that pace, and with 200 to go "everyone started kicking pretty hard, so I just tried to go with them," said Aragon. Her own acceleration propelled her into the lead, and she just kept hammering the rest of the way to the line, motivated as much by the fear of Frazier's pursuit as anything.
"It's pretty scary being next to her and even after I passed her I was thinking 'Ryen Frazier's behind me' and just don't slow down," added Aragon who also broke her own Montana HS record. "I knew there were plenty of girls behind me and I couldn't let up before the finish."
Aragon's success might have been some small karmic redemption 31 years later for the lunging fourth place finish of her father, Chuck, in the Olympic Trials 1500 meter final, where he was nipped for the last Olympic team spot by Sydney Maree.
While there were no professional Miles on the schedule this year, a world class performance of sorts was recorded in the Boys Youth Mile, where Jonah Gorevic, age 11, who set a world record last year at the meet, clocked an impressive 4:51.85, more than 10 seconds ahead of the next finisher, and he just missed another WR. Gorevic, who lives in Rye, NY, and mature beyond his years, only runs three days a week to avoid overtraining, burnout and injury. Don't be surprised to find him right in the thick of things in the high school boys Dream Mile here in a few years.
6th adidas Dream Mile
New York, NY, Saturday, June 13, 2015
BOYS
1) Grant Fisher (MI), 4:01.73
2) Andrew Hunter (VA), 4:02.36, PR
3) Mike Brannigan (NY), 4:03.18, PR
4) Joe Klecker (MN), 4:04.13
5) Logan Wetzel (MI), 4:04.60
6) Avery Bartlett (FL), 4:08.01, PR
7) Philip Hall (NC), 4:08.80, PR
8) Conner Mantz (UT), 4:09.20
9) Olin Hacker (WI), 4:09.37, PR
10) Carlos Villareal (AZ), 4:14.92
11) Matt Plowman (IL), 4:19.04
12) Jack Salisbury (RI), 4:23.35
DNF: Myles Marshall (TX), pacer; Austin Tamagno (CA)
GIRLS
1) Christina Aragon (MT), 4:37.91*, PR
2) Ryen Frazier (NC), 4:38.59, PR
3) Amanda Gehrich (CA), 4:40.25, PR
4) Katie Rainsberger (CO), 4:40.92, PR
5) Julia Heymach (TX), 4:41.31
6) Danielle Jones (AZ), 4:41.35
7) Destiny Collins (CA), 4:43.45, PR
8) Hannah Long (MO), 4:45.15
9) Stephanie Jenks (IA), 4:51.47
10) Malia Ellington (NC), 4:52.51
11) Anna Rohrer (IN), 4:54.35
12) Rachel McArthur (VA), 4:58.12
13) Lucy Biles (UT), 5:00.60
DNF: Marissa Sheva (PA), pacer
*Meet record (previous record, 4:39.17, Wesley Frazier (NC), 2013)
Full meet results at: http://newyork.diamondleague.com