For Roger Bannister, the four-minute Mile was just the start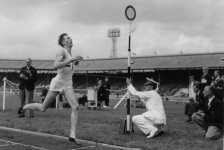 May 31, 2014
A review of Twin Tracks, by Roger Bannister. Bannister's two brilliant careers, medical and athletic, both show the power of mind over matter
Michael Beloff, The Spectator
The title of this reflective and readable memoir refers to the author's lifetime interests in sport and medicine — tracks which advanced not in parallel but with intersections. Few will be unaware that Roger Bannister was the first man to run a Mile in under four minutes. The image of him breasting the tape scarcely needed reproducing on both the front and back cover of his book; even 60 years on, this moment is firmly imprinted on the country's psyche.
But how many will also be aware of his contribution to the study of the autonomic nervous system — or even what that system is, unless tempted to turn to Brain and Bannister's Clinical Neurology, an 800-page encyclopaedia? Yet the impact of mind on matter was a common theme in both his athletic and academic careers.
Although the former lasted barely a decade and the latter more than half a century, almost a third of Twin Tracks is, perhaps inevitably, taken up with running, and the story of overcoming what was at the time thought to be an insuperable physical barrier. This was through the combined efforts of the three musketeers of British middle distance in the 1950s: the two Chrises — Chataway and Brasher — and Bannister himself, all collaborators in this exceptional time-trial and friends for life.
Continue reading at: www.spectator.co.uk