For Rowbury, a Week of Start Lines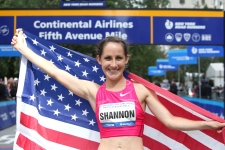 September 19, 2013
Two-time NYRR Fifth Avenue Mile champion gets engaged, new coach, ready for Sunday's event
By Barbara Huebner, Marathon News Service
This has been a big week for Shannon Rowbury, and it's far from over.
On Tuesday, while Rowbury was in Golden Gate Park doing the last hard workout of her season, it was announced that the San Francisco native will soon move to Portland to join the Nike Oregon Project and be coached by Alberto Salazar. On Sunday, she will line up for the NYRR Fifth Avenue Mile presented by Nissan, a race in which she won back-to-back titles in 2009 and 2010.
In between, she spent Thursday in New York City celebrating her 28th birthday with her mother, Paula, and her fiancé, Pablo Solares. And on Friday, she has a date with Kleinfeld Bridal—of Say Yes to the Dress fame—to try on wedding dresses.
"They say that when it rains it pours, and fortunately it's a lot of good things that seem to be coming into my life right now," said Rowbury in a telephone interview as she drove to get some lunch after practice Tuesday. "It's lots of change, but I'm grateful for people like Pablo and my parents. No matter how much change life throws at me, they stay constant."
Continue reading at: www.nyrr.org