Former CU Buffs' Star Jenny Simpson Back Where She 'Belongs'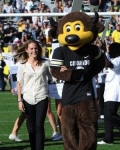 April 25, 2013
Olympian training with Wetmore, Burroughs again
By John Meyer, The Denver Post
SUPERIOR, Colo. – Two-time Olympian Jenny Simpson is back training in Boulder, reunited with coach Mark Wetmore after a three-year absence and helping coach the University of Colorado track team as a volunteer assistant.
Simpson left Wetmore and Boulder in 2010, moving to Monument to train under Air Force coach Juli Benson. Simpson became a world champion in the 1500 meters, but failed to make the finals of the event at the London Olympics.
"I thought back to the years I spent at CU. It was just a really special chemistry -- coach and athlete -- between Mark and Heather (Burroughs) and myself," said Simpson, who opens her 2013 season Friday at the Drake Relays. "You can't expect that everywhere, and sometimes it just can't be replicated. Sometimes there's just this peace you can't define, and a method to training, that I think I definitely have at CU."
Continue reading at: dailycamera.com