Former NC State runner Sandy Roberts misses sub-4 minute Mile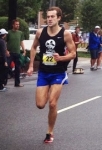 August 08, 2013
"On the last lap, I couldn't get the turnover I needed."
By Wade Rupard, News & Observer
RALEIGH — Hundreds of supporters lined Lane 3 at Cardinal Gibbons High School's track to cheer on Sandy Roberts as he attempted a sub-4 minute Mile.
Through three of the four laps, Roberts was just over pace at 3:01. The crowd grew louder and more energetic, and as Roberts crossed the finish line, it went still as everyone waited to hear the result.
His last lap was a 1:03.8. Roberts had run 4 minutes, 6 seconds.
"It was very frustrating," Roberts said. "I really wanted that sub-4 today. It's tough by yourself."
Roberts' personal best in the Mile is a 4:01.24, which he ran at Georgetown. He competed for both Georgetown and N.C. State, where he ran a 13:59 in the 5000 meters and qualified for the finals in the NCAA Championship. Roberts was a five-time state champion in the 3200 meters in track and won the 2004 State 4A cross country championship at Broughton High School.
Roberts' brother Logan, who ran for Baylor, paced him through the first two laps. They ran a 59.8-second opening lap and a one-minute second lap.
Logan Roberts dropped out after about 900 meters, and Sandy Roberts said running alone made it difficult to keep the pace.
"On the last lap, I couldn't get the turnover I needed," Roberts said. "Running solo is tough. I needed more help."
Englishman Roger Bannister was the first person to break the 4-minute threshold. There are more than 400 sub-4 minute Milers on record from America, including North Carolina runner Isaac Presson, who accomplished the coveted feat in June.
Though he failed to meet his goal, Roberts immediately grabbed the microphone to thank the "incredible crowd."
"I really can't thank them enough," Roberts said.
Continue reading at: www.newsobserver.com