Gabriele Anderson to Compete in B.A.A. Mile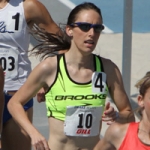 April 10, 2012
Andrew Carlson to run B.A.A. 5K on April 15; both events tied to storied Boston Marathon
MINNEAPOLIS - (April 10, 2012) - Two Team USA Minnesota distance runners will head to Boston this weekend to compete in races held the day before the Patriot's Day marathon. Gabriele Anderson will run in the B.A.A. Invitational Mile and Andrew Carlson will be among the competitors in the B.A.A. 5K.
Both races will be held on Sunday, April 15, with the fourth B.A.A. (Boston Athletic Association) 5K starting at 8:00am and the Invitational Mile for professional men and women at 10:00am. The 5K will have a field of 6,000 running on a flat loop course that begins on Boylston Street and ends at the Boston Marathon finish line. The three-lap Mile course also begins and ends at the famed Boston Marathon finish line.
Anderson will open her 2012 season at the Boston Mile. The 1500 meter specialist has run 4:31.05 in the Mile and 4:06.77 in the 1500 meters. Anderson was third in the Mile at the 2011 USA Indoor Championships and third at the 2011 USA Road Mile Championships.
Carlson most recently posted 14:13 at the Carlsbad 5000 on April 1. The two-time national champion at 15K and 25K finished sixth at the 2012 U.S. Olympic Marathon Trials in a debut time of 2:11:24. He is preparing to compete in the 10,000 meters on the track this spring.
About Team USA Minnesota
Team USA Minnesota is based in the Twin Cities of Minneapolis/St. Paul. Formed in 2001, the purpose of the training center is to improve the competitiveness of post-collegiate American distance running and to develop Olympians. The athletes are coached by Dennis Barker, head cross country and track coach at Augsburg College in Minneapolis. Team USA Minnesota's major sponsor is Life Time Run and its silver sponsor is Twin Cities In Motion. It is also supported by the New York Road Runners and the USA Distance Project, and in 2010, the training group won the inaugural Allan Steinfeld Development Award from Running USA.
For more information, go to: www.teamusaminnesota.org