Gary Martin eyes sub-4 Mile at New Balance Nationals Outdoor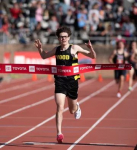 May 12, 2022
"The season's just getting started. For me, I'm not focusing too much on the barrier, but just running and competing to be the best guy in the country."
By Doug Binder, DyeStat Editor

Gary Martin's final high school track season could be headed for a storybook ending on Sunday, June 19 at Philadelphia's historic Franklin Field.

The New Balance Nationals Indoor Mile champion can't wait for a chance to win the outdoor title in his home city

That opportunity comes June 16-19 when New Balance Nationals Outdoor comes to the City of Brotherly Love.

"It felt like all the cards were aligning, after all of these cancellations," said Martin, a senior at Archbishop Wood Catholic, located less than 20 miles from downtown Philadelphia.

"First it was Penn Relays, and my first big race at Franklin Field. And now I get to go back for one of the last races of my high school career."

Martin broke the Penn Relays boys Mile record with 4:01.04 on a windy Friday afternoon at the storied meet.

After getting his first taste of Penn as a freshman in the 4x400 relay, Martin returned after two years of cancellations as one of the top distance runners in the country and perhaps the greatest in Pennsylvania history.

Martin has come close to cracking 4 minutes in the Mile twice in recent weeks. In addition to his dominant six-second victory at Penn Relays, he ran 4:00.95 on April 13 at the Explorers Invitational (#7 U.S. HS-only).

"Honestly, I thought I was in shape to do it (at Penn Relays)," Martin said. "It will come with the right race. With a few more weeks of training I should be in really good shape to do it (at New Balance Nationals). It's hard to get a better environment, and then with a national championship on the line."

The University of Virginia recruit has also run 8:41.57 in the 3200 meters, at the Henderson Invitational on May 6. The Pennsylvania state championships are coming up May 27-28.

Martin's victory at the New Balance Nationals Indoor in March at The Armory in New York City was one of the best moments of the meet. He was able to outkick a stellar field and crossed the finish line in 4:02.34 as he led three other runners under 4:03.

"There were so many guys knocking on the door (of sub-four) at Indoors," Martin said. "The season's just getting started. For me, I'm not focusing too much on the barrier, but just running and competing to be the best guy in the country."

Entry registration remains open. Among the early commitments for the boys Mile are Riley Hough of Hartland (Mich.), the Eastbay national cross country champion, and Marcus Reilly of Northbridge (Mass.) Both have run sub-4:08 for the Mle.

New Balance Nationals Outdoor takes place at Franklin Field in Philadelphia, Thursday through Sunday, June 16-19. Get full meet information at nbnationals.com.
NOTE: On May 14, 2022, at the Philadelphia Catholic League Championship, Gary Martin became the 14th U.S. prep sub-4 overall and 9th since the launch of BBTM in 2012, clocking 3:57.98; also the fastest HS-only Mile.