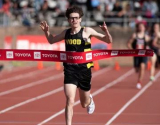 May 12, 2022
"The season's just getting started. For me, I'm not focusing too much on the barrier, but just running and competing to be the best guy in the country."
By Doug Binder, DyeStat Editor

Gary Martin's final high school track season could be headed for a storybook ending on Sunday, June 19 at...
Read More
comments