Prep's Alvarado wins Mile at National Championships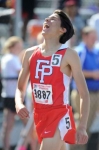 June 20, 2014
"I had more confidence about winning the Mile on Sunday, even though I didn't have one of the fastest times coming into the race and wasn't expected to win the event on paper."
By Fairfield Citizen
Recent Fairfield Prep graduate Christian Alvarado, of Fairfield, had a shiny enough resume before the starter's gun went off for the first section of the Mile at the New Balance Nationals Outdoor Championship high school track & field meet last Sunday afternoon. But that list of impressive wins in cross country, indoor track and outdoor track had been limited to regular-season races, invitationals, conference championship meets, state class meets, State Open or regional competitions. Nothing on the biggest stage -- nationwide events that attract the country's fastest and most accomplished runners.
He had not threatened for a spot in the winner's circle in his handful of national races. Until last weekend in Greensboro, N.C.
Alvarado, who won the metric Mile and two-Mile races at the State Open on June 9, led his heat from wire-to-wire and finished first at the New Balance meet. Then he had to wait more than an hour for the section of seeded racers to see where he placed. No one in that ostensibly faster section beat Alvarado's time of 4:06.88, the 11th swiftest time in the nation this season, according to DyeStat.com, which tracks elite high school runs, throws and jumps.
Continue reading at: www.fairfieldcitizenonline.com