Peabody Mile relay finishes second at New Balance nationals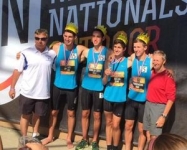 June 22, 2015
The Tanner foursome, which includes three seniors and a sophomore in Rocha, were each named All-Americans for their finish at the 25th New Balance Outdoor Nationals.
By Matt Williams, Salem News
Having already run most of his Mile in a crowded and big stadium at New Balance Outdoor Nationals, Peabody senior Ben Manoogian was surprised he was able to pick out one voice in the crowd as he rounded the corner for the final straightaway.
As fate would have it, the encouragement from Joe Rocha (Peabody's girls track coach and the father of fellow Tanner Marcelo Rocha) was the special sauce Manoogian needed to anchor one of the most impressive finishes in Peabody's long track lore.
"All I heard him say was 'This is your last race ever ... Go to the outside lanes now.' That really got me pumped up right at the 200 mark," said Manoogian, who kicked his way past several competitors to help the Tanners Mile relay team finish second in the nation's championship division.
Continue reading at: www.salemnews.com