Gary Patton, 71, Sets Blazing Fast Indoor Mile World Record — on Low Mileage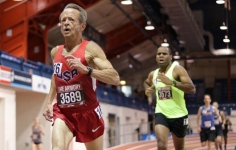 December 14, 2017
"The fact that I mix up my training is why I don't get injured, which is probably my primary advantage over my competition."
By John A. Kissane, Runner's World
Gary Patton of Rock Rapids, Iowa, gave himself a fitting early birthday gift: a world record in the indoor Mile for the 70–74 age group. It was something he'd long pursued, and he had improved his training over the past year to chase the goal.
On Thursday, December 7, a few days before his 72nd birthday, Patton ran 5:29.81 for the Mile on the indoor track at the New York Armory.
He broke the previous indoor world record of 5:32.4 by Scotty Carter (USA), which had stood for 30 years.
Patton has been a top age-group runner for a decade, and he holds several American records in the middle distance events. But the indoor Mile world record had been elusive — and intriguing.
He first took a serious crack at it last year on the same track, but he ran 5:34.9, missing the mark by two and a half seconds.
Continue reading at: runnersworld.com