Geneva kids run for health, charity fundraising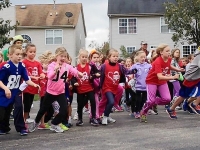 October 24, 2013
Completing the Mile wasn't easy, Ally Ward said, but her mother said she was glad for the opportunity for her kids to get out and run.
By Alexa Aguilar, Special to the Tribune
More than 100 Heartland students took off for a dash around their school building on a recent blustery afternoon.
Many of the students sported red cheeks after the run and had donned their red "Run from the Heart" T-shirts, in an event that has become an annual tradition. The students register to run and donate the proceeds to a local charity.
This year, Heartland Elementary students voted to send the roughly $2800 they raised to the Northern Illinois Food Bank.
"This is another good community-building event," said Principal Adam Law, who completed the run in his dress shirt and shoes. "It's a nice way for our kids to do something healthy and give back to the community."
Continue reading at: www.chicagotribune.com