Glenn Cunningham overcame burn injuries to set Mile records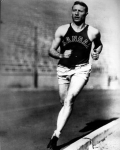 January 19, 2014
Kansas track star, 1936 Olympic 1500m silver medalist won Wanamaker Mile six times
By Beccy Tanner, The Wichita Eagle
The anniversary of one of the most famous fires in Kansas is approaching.
On the morning of Feb. 9, 1917, Glenn Cunningham, his brother, Floyd, and two other siblings walked to school on a bitterly cold day. Floyd was 13; Glenn was 7.
In his book, Never Quit, Glenn Cunningham would recall that the school building was so cold when they arrived at the Rolla Sunflower country school, they could see their breath. As Floyd began to stack chunks of coal on top of wood in the potbelly stove, Glenn walked toward him.
Floyd reached for a five-gallon can of accelerant to help start the fire.
"A blinding flash seared my eyes and made my head swim," Cunningham wrote in his book. "An awful force, as if from hell itself, hurled me painfully back against the wall. Dimly I heard Floyd scream, 'I'm on fire.'
"I tried to open my eyes to see what was happening. I couldn't. Nothing but black-red, stabbing pain raced down the throbbing corridors of my mind. Suddenly I realized it. 'I'm burning, too!' "
Continue reading at: www.kansas.com