GO! Mile One Lap, One Mile, One Fast Little Race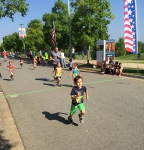 June 29, 2016
Six Arkansas State Age Group Records set at GO! Mile; RRCA 1 Mile National Championship and Bring Back the Mile Featured Event
By Kelly Richards, ROADIE
The Road Runners Club of America added the Mile to the slate of National Championship races in support of the Bring Back the Mile (America's Distance) movement. For three years running, the GO! Mile presented by Go! Running ®, has been the RRCA 1 Mile National Championship.
A one Mile race in June in Little Rock is guaranteed to be hot, fast and fun! How hot? A steamy and sunny 80° by 7:00am. How fast is fast you ask? Six Arkansas State Age Group Records were set and the men's winning time was 4:21.49 while the women's winner set an AG state record in 4:43.28. Don't run over to the porta-pottie or you'll miss the finish fast! What about the fun? For me, it's any time I'm not running because I'm a marathoner and running a Mile is way harder than it is fun, but I have three favorite race heats:
1) The First Mile, this heat is for novices and beginners. For most participants it's their first race and therefore their first Mile. Everyone finishes feeling accomplished. I thought it was fantastic that race sponsor CHI St. Vincent had more than 70 employees participate in the First Mile. Erin Taylor, co-owner of Go! Running, has run the First Mile with her father, John McCarthy, the past three years. John passed away suddenly last fall. This year, Erin, all four of her children and some special friends ran the First Mile together in honor of John.
2) The Elite heat because this is when the super speedy runners' race and it's just plain cool to watch a human body move that fast.
3) The Mini-Mile for Kids. I absolutely love the enthusiasm and joy the little kids run with.
Continue reading at: www.arkansasoutside.com