Grant Fisher: Capping off a Stellar High School Career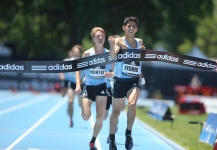 June 18, 2015
"I never thought any of this would have been possible for me...To have things go well this quickly is mind boggling."
By Marc Bloom, Running Times
Athlete: Grant Fisher
Year: Senior
School: Grand Blanc High School
Location: Grand Blanc, MI
Mile PR: 3:59.38
2-Mile PR: 8:51.28
Key Workout:
2-mile warmup, strides of 14 to 20 seconds
3 sets of 400m, 400m, 200m with 4:00 recovery between intervals. First 2 sets in 60, 60, 30 seconds. Last set in 57, 57, 26 seconds
10- to 15-minute cooldown running barefoot on grass
With a triple-gear burst of speed on the last lap, Grant Fisher of Michigan, who became the seventh prep to run sub-4:00 Mile on June 4, repeated as adidas Grand Prix Dream Mile champion on June 13 in New York. Saying that the aura of the IAAF Diamond League meet made him feel like a professional, Fisher, a Stanford-bound senior, ran flawlessly in 4:01.73 on a warm and windy day at Icahn Stadium. Fisher extended his two-year undefeated streak in high school competition with one more scholastic race left: the two Mile in this Saturday's Brooks PR Invitational in Seattle. After that, Fisher will run the 1500 meters at the junior national championships, June 25-27, in Eugene, Oregon.
Continue reading at: www.runningtimes.com