Grant Fisher Eyes Sub-4 at Nike Festival of Miles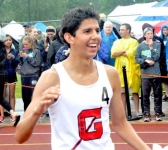 June 01, 2015
In St. Louis on Thursday, June 4, Michigan high schooler could make history as 7th U.S. HS sub-4 Miler as he races against professionals including defending champion Jordan McNamara
From Festival of Miles Foundation
ST. LOUIS - The Festival of Miles Foundation has announced a late addition to this year's Saint Louis Track Club Elite Men's Mile field. Grand Blanc High School senior Grant Fisher, coming off a state record 4:00.28 for 1600 but also 4:01.66 for the Mile on Saturday at the Michigan State Meet, will compete against a field of professionals on Thursday night June 4 at 8:50pm at the 8th Nike Festival of Miles to be held at Saint Louis University High School.
The Festival of Miles has seen 16 total sub-4 minute Miles since 2009 and if Fisher can add to that list he will become just the 7th American high school student ever to break the magical barrier. The legendary Jim Ryun was the first to do it, way back in 1964. His high school best of 3:55.3 stood as the National Record for 36 years until Virginia's Alan Webb ran 3:53.43 in 2001. To become the third fastest U.S. boy ever Fisher would have to dip under 3:59.38, and based on recent results, it certainly seems possible.
Fisher's coach Mike Scannell was very pleased with his pupil's record-breaking performance 4:00.28 (1600) and 4:01.66 (Mile) at Saturday's Michigan State Meet. State officials had set up a clock at the 1609 meter / Mile mark for the occasion.
"Grant ran really well at the state meet over the weekend and we're excited to come to The Nike Festival of Miles and toe the line," Scanell said. "I'm happy he has this opportunity to race in such a great field."
Fisher will have plenty of competition on Thursday, namely from former Festival of Miles champions Jack Bolas and Jordan McNamara. Last year, McNamara set the meet and state record of 3:54.27. Other top competitors include Tommy Schmitz and top U.S. marathoners Aaron Braun and Tyler Pennel.
Fisher will not be the only high school athlete competing against the pros at Festival of Miles. Eureka (MO) High School star Hannah Long will be running in the UMB Bank Women's 800 meters. Long, who split 2:06 at the Missouri State Meet in the 4 x 800 meter relay, will face LaTavia Thomas who boasts a best of 1:59 and Lauren Wallace who won the 2015 USA Indoor title at 1000 meters.
Other Festival of Miles events include six high school all-star races featuring athletes from 13 different states. Last year's high school boys Mile saw seven athletes break the 4:10 mark, making the race one of the top high school post-season Miles in the country. The 2015 fields include Iowa stars Thomas Pollard and Stephanie Jenks in the boys and girls Miles. Tennessee's Carlton Orange and Illinois' Michaela Hackbarth lead the 800 entries.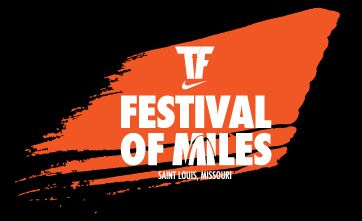 The Festival of Miles, a 2015 BBTM Featured Event showcasing the best Miles across the country, will be broadcast live on Flotrack.com beginning at 7:00pm CST on Thursday, June 4. Tickets are available online at www.stlfestivalofmiles.com or at the gate. All proceeds from ticket sales go to the 2015 Festival of Miles athlete in need, Brian Ott, who has been battling cancer since the age of three. Since 2008, the Festival of Miles has raised more than $38,000 for local athletes in need.
About Festival of Miles
The Festival of Miles Foundation is a non-profit organization whose mission is to promote the sport of track & field and give back to athletes in need. The Festival of Miles is a track meet featuring 2.5 hours of non-stop action with youth and middle school races, high school races showcasing some of the nation's top talent and pro races featuring Olympic level athletes. Each year all proceeds from ticket sales go to an athlete / athletes in need.
Visit www.stlfestivalofmiles.com for more information.