Grant Fisher Headlines at Gazelle Sports adidas Elite Mile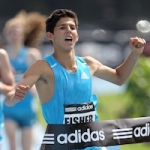 January 24, 2015
Audrey Belf top girls entrant for high school Mile at Grand Valley State University on Saturday, January 31
Gazelle Sports and adidas will be hosting the fourth Elite Mile race at GVSU in Allendale, Mich. at 5:00pm on Saturday, January 31. In 4 short years, this race has quickly become one of the premier high school distance events in the country.
Race organizer, Ted Kushion of Gazelle Sports, attributes the success to the passion Michigan has for distance running: "The event just has a great energy because so many people in this state are passionate about running. We don't have a $100K plus budget like the Brooks PR Invite in Seattle or the New Balance Nationals, but we have an amazing facility, some of the best high school talent in the country, and incredibly passionate fans. That's a recipe for success."
The talent Kushion references is beginning to get some attention nationally. Three-time Olympian and Rockford native Dathan Ritzenhein has also taken notice since his return home. "High school running in Michigan is at an all-time high!" said Ritzenhein. "I am very impressed with the depth of talent we have in this state and can't wait to see what our young runners can do this winter and spring."
This year's race will definitely be one to remember. On the men's side, Grant Fisher is the favorite, coming in with a Mile PR of 4:02. This will be Fisher's first competition since capturing his second straight Foot Locker National Championship in cross country.
"Typically, Grant isn't focused as much on time as he is on executing a race strategy and winning," said Kushion. "All eyes are sure to be on the clock as this distance prodigy seems destined to be the next high schooler to achieve a sub 4-minute Mile."
Despite being the clear favorite, Fisher will have to work hard to win the Elite Mile. Mid-distance speedsters Donovan Brazier, the 2014 New Balance Outdoor National 800 meter champ, and Logan Wetzel, second behind Donovan at Nationals, will also toe the line at the Elite Mile. "Both of these kids are capable of pushing an uncomfortable pace at the start and can close with the best of them," said Kushion.
In the women's race, Audrey Belf will be looking for her second Gazelle Sports Elite Mile victory in a row. Audrey's 4:45 at the adidas Grand Prix last June was good enough for fifth place in a tight race. One month later, Belf won the 5000m at the USATF Junior Outdoor Track & Field Championships in Eugene, Oregon at historic Hayward Field. Belf will be chased by a handful of other sub-5 minute Milers who are poised to take that next step onto the national stage.
This year's Elite Mile will take place at the beginning of the GVSU Quad Meet, a collegiate scored track meet between GVSU, St. Joseph's College and Lewis University. Earlier in the day GVSU will host the U of M / MSU Dual Meet. Come check out a great afternoon of track & field on Saturday, January 31 at the GVSU Kelly Family Sports Center in Allendale. The entry price is $7 per person. For more information, email Kushion at: tkushion@gazellesports.com