Heath, Uceny Head to NYC After Mile Wins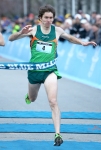 September 16, 2013
"I was running out of gas, but I think they were running out of gas, too."; top field set for NYRR Fifth Avenue Mile on Sunday, September 22
By Barbara Huebner, NYRR News Service
It was a great day for U.S. Milers at Saturday's Great North CityGames, with Garrett Heath (right, PhotoRun.net) and Morgan Uceny putting in strong finishes to win their respective races in the Bupa Great North 1 Mile.
Heath's winning time of 4 minutes, 1.56 seconds was announced as a meet record, with Uceny breaking the tape in 4:33.97. Both instantly became athletes to watch in next Sunday's NYRR Fifth Avenue Mile Presented by Nissan.
Also putting in a strong performance was American Leo Manzano, who finished a close second to Heath in 4:01.79. He, too, is headed to New York City.
Heath's surprise victory, over a field that included 2008 Olympic gold medalist and two-time World Champion Asbel Kiprop, came despite getting stuck near the back of the 11-man pack when Kiprop and Bethwel Birgen took the race out hard. The two Kenyans ran shoulder-to-shoulder in the early going, with Manzano right behind. But with about 400 meters remaining, Heath had worked himself up into second place behind Kiprop, and with 250 meters to go took a lead that he would not relinquish.
"I was running out of gas, but I think they were running out of gas, too," said Heath, 27, in a telephone interview. "That last straightaway was pretty long."
Continue reading at: www.nyrr.org