Houlihan beats Simpson to win USA 1500m crown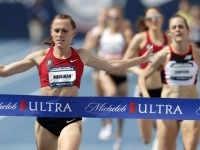 June 23, 2018
"I've looked up to her as a runner throughout high school. She's been someone that has been talked about throughout Iowa. To come out here and race against her and put on a good show was really cool."
By Tommy Birch, Des Moines Register
DES MOINES - With about 100 meters remaining in the 1500 meter women's final, Shelby Houlihan knew she had to make her move.
As Houlihan came down the final stretch of the race, she began setting the stage for a memorable finish.
"The last 100 I was just like, you've just got to pull even and then hopefully have a little kick the last 50 and I was hoping she wouldn't be able to respond to that," Houlihan said
The plan worked for Houlihan, who took down Jenny Simpson during Saturday's showdown during the USA Outdoor Track & Field Championships at Drake Stadium.
Houlihan, a native of Sioux City, finished first. Simpson, a native of Webster City, finished runner-up in the frantic finish of Iowans.
"I don't think the crowd could lose today," Simpson said. "Between me and Shelby duking it out the last 100 meters, I really hope that everyone felt like it was a thrill and they had more than one person to root for."
Houlihan and Simpson gave the crowd exactly what they wanted with a 1-2 finish of Iowans in the final. It's a matchup that's been building interest and intrigue for weeks.
In one corner there was Simpson, the veteran with seven U.S. outdoor national titles in the metric Mile, including the last four. In the other was fellow U.S. Olympian Houlihan, who had recently secured his first career 1500m victory over Simpson at the Prefontaine Classic on May 26.
Continue reading at: desmoinesregister.com