How Becoming a Miler Helped This Marathoner Qualify for Olympic Trials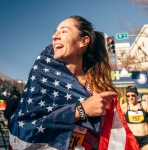 May 22, 2019
Training for shorter distances helped Leigh Anne Sharek finally achieve her goal of going sub-3:00 in the marathon and more!
By Hailey Middlebrook, Runner's World
It all started with a bet. When Leigh Anne Sharek was fresh out of college, a friend bet that she could beat her in a 5K. While Sharek had run a bit as an undergrad at Pace University—and was naturally fit from a decade of competing in gymnastics—she had never gone more than a few miles at a time, let alone raced them. Still, that bet ignited a fire.
"I wasn't about to let her beat me," Sharek, now 30, recently told Runner's World.
Sharek prepared for the 5K by doing out-and-backs at night on the Brooklyn Bridge, which sat a stone's throw from her campus dorm. The view of the Manhattan skyline always stopped her in her tracks (figuratively, at least), and made her proud to call the Big Apple home, she said.
When race day arrived, Sharek surprised herself by placing 4th overall in 20 minutes and change. Her friend ended up getting a bloody nose two miles in, then dropping out.
Bragging rights aside, Sharek gained something else that day: a sense of accomplishment. From then on, she craved the feeling of running really, really hard.
That competitive drive—along with a supportive, homegrown running community in New York City—would push Sharek to great running feats over the next seven years, including a U.S. Olympic Marathon Trials-qualifying performance (2:41:59) at the California International Marathon in December 2018. That means in February 2020, Sharek will toe the line in Atlanta with the 301 (and counting) women who have also qualified for Trials.
"I train with women who have also qualified, so it'll be so exciting to be there," Sharek said. "New York isn't an easy place to be a runner, but the community here makes it possible."
Continue reading at: runnersworld.com