How Fast Can You Run One Mile?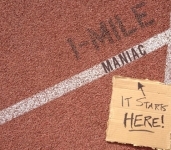 August 21, 2017
Bring Back the Mile has a comprehensive calendar of Mile races across the country.
By Jen A. Miller, The New York Times
A lot of runners, myself included, are putting in long hours getting ready for fall marathons and half marathons. But if you don't have the time for all that training or you're looking to test your speed as part of it, how about a road Mile?
The Mile race is booming. In 2010, there were 69,000 finishers in Mile races in the United States. Last year, that number hit 149,000, according to Running USA. There are more chances for you to run this short but difficult race too: there are now 1,530 road Mile events in the United States, compared to just 730 in 2010.
Some of this newfound popularity is thanks to Bring Back the Mile, a campaign started in 2012 to make the road Mile popular.
Another is the nature of the race itself, said Rich Harshbarger, chief executive of Running USA, given how short it is. "It's accessible. How hard is it to run a Mile?" he asked.
It can be as easy or as hard as you want it to be. It can be a fun thing to do with friends or a way to be competitive "and not get injured and not have a lot of recovery time," he said.
Continue reading at: nytimes.com