How Grant Fisher Did It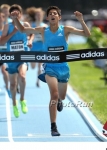 December 26, 2014
"That's what everyone's talking about right now. The 4 minute Mile. But I will set the goals for myself."
By Jeff Hollobaugh, The Mercury-Chronicle
He made it look so easy. That's what has confounded the media about Grant Fisher.
Sometimes the running media takes on the echo chamber qualities that we see in the political media. We write for the sake of writing, and like errant pinballs, we bounce off the words and ideas that others write. We scan blogs and discussion boards. We even read what the crazies have to say.
All because we have to generate buzz: Foot Locker Nationals is next week! We need to preview it! We need to say something! And what was said? We saw plenty of predictions that so-and-so would challenge Fisher because his times have been faster this year. The writers looked at the times—these deceptive points of data—and interpreted them at face value. Some haled Fisher as the strong favorite, but that gets boring to repeat article after article, so alternate story lines had to emerge.
Then when Fisher won, gapping the field with deceptive ease, looking over his shoulder repeatedly as if he were wondering where everybody went—the running media said, Of course. What'd we tell you?
They slapped the "legend" mantle on him, for a race that might have been as easy as is looked.
The real question here is not whether Grant Fisher is a legend. He is what he is. It is not how fast he ran or how fast he might have run had the race rolled out differently. The real question is how Grant Fisher did it.
Continue reading at: http://mercury-chronicle.com