How Johnny Gregorek Finds Stability in Running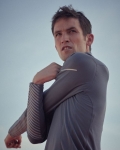 October 21, 2019
"Running is woven into everything in my life. It stabilizes everything else... You learn so much that you pull into your personal life about staying calm and happy and living each moment, being there and being present."
By Cathal Dennehy, Runner's World
Running is a sport of contrasts and contradictions. Simple on the surface, yet complex underneath. A passion that can fill your heart with joy, but also tear it in two.
Johnny Gregorek knows this. The 27-year-old from Seekonk, Massachusetts has built himself into one of the world's fastest Milers over the past decade, and back in March became just the second American to clock a sub-3:50 Mile indoors when he ran 3:49.98 in Boston.
But while Gregorek may have been gifted with innate talent—his father, John, made two U.S. Olympic teams in the '80s and his mother, Christine, was an Olympic Trials finalist—his achievements have mainly come about through persistence.
"You have many more hard days out there on the track than you do good ones," Gregorek told Runner's World. "It's a lot more painful than people realize."
In a profession that takes his body, mind, and emotions on a rollercoaster journey, Gregorek believes one of the keys to success is finding a sense of stability.
"There's so much yin and yang when it comes to running," Gregorek said. "It's the most complicated, difficult, mind-numbing, heart-wrenching thing—and it's also just putting one leg in front of the other. Once you can be present and realize both of those co-exist and that there are going to be good days and bad days, you flow with the punches."
Rather than speculate on future performances, Gregorek stays grounded in the moment. "That's when you're really going to see a lot of success: when you take each day as it is and [ask], 'How can I get the most out of today?'"
How does the U.S. rising star do that? He trains. A lot.
Continue reading at: runnersworld.com