Humble Olympian finds a fit as a running coach in Lowell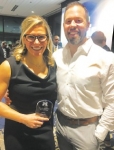 February 02, 2018
These days, Anna Willard Grenier is fine with living a less physically exhausting life and coaching.
By Matt Langone, Lowell Sun
LOWELL -- Last weekend, while she was getting inducted into the University of Michigan Track & Field Hall of Fame, Anna Willard Grenier was made aware of an impressive fact that took her by surprise.
"I was told that apparently I'm the only American woman in history to run sub-9:30 in steeplechase, sub-4:00 in the 1500 (meters) and sub-2:00 in the 800 (meters)," said Willard Grenier with a laugh. "I had no idea."
The 33-year-old Willard Grenier lives in Lowell and works as a running coach at Crossfit Merrimack, which is on Gorham Street and is owned by her husband Bob Grenier. Her list of athletic achievements is both lengthy and impressive, with her crowning moment occurring in 2008 when she was the 3000m steeplechase champion at the U.S. Olympic Trials and went on to place 10th at the Summer Games in Beijing.
Considering she was once a world-class athlete, Willard Grenier is remarkably humble. She first met Bob, a Lowell High grad, through the online dating website Match.com and purposely left out the fact that she is an Olympian in her profile. She also tries to avoid discussing her competitive accomplishments while she's coaching athletes, instead trying to keep the focus on them.
Continue reading at: lowellsun.com