Iconic Australian athlete John Landy passes away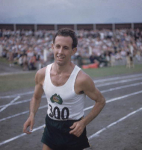 February 25, 2022
"He was not only a wonderful husband, but a wonderful father and he lived a wonderful life."
By Scott Spits, The Sydney Morning Herald
Legendary Australian runner and former Victorian Governor John Landy has died. He was 91.
Responsible for one of the most iconic moments in Australian sporting history - when Landy went back to check on a fallen runner mid-race at the 1956 Australian Mile Championships - Landy has passed away at his home in country Victoria.
That fallen runner was Ron Clarke, 19 and future Aussie legend, who crashed to the turf after clipping another runner's heel. Remarkably, despite slowing down and checking on his countryman, Landy still went on to win the race.
Landy's son Matthew Landy confirmed his father's passing to News Corp.
"Dad passed away peacefully on Thursday, February 24th surrounded by what he loved most, his family and the Australian bush," Matthew Landy said.
"We are going to really miss him. He was not only a wonderful husband, but a wonderful father and he lived a wonderful life.
"It was a privilege to be his son and a privilege to be able to share some of his fascinating and wonderful life."
Among various achievements in athletics, Landy represented Australia at the 1952 Helsinki Olympics and the 1956 Melbourne Olympics, earning a 1500 meter bronze medal at the latter.
In 1954, Landy became the second man behind Roger Bannister to achieve a sub-4 minute Mile and also setting a world record of 3:58.0.
At the time, The Age reported Landy's feat as follows:
The chief executive officer for the 1956 Olympic Games (Lieutenant-General W. Bridgeford) said last night that he hoped Landy would be able to retain form to run in the Melbourne Games.
He described Landy's 3:58 Mile at Turku on Monday as a "magnificent effort." The resulting publicity should increase interest in the Games and Australia generally, he added.
Continue reading at: smh.com.au
BELOW: Landy with fellow legend, rival & friend Roger Bannister, signing posters of their epic Mile of the Century race at the 1954 Commonwealth Games in Vancouver, Canada