It Starts with the First Mile - The 2013 Go! Mile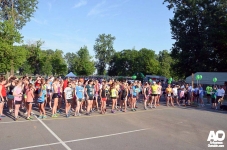 June 17, 2013
By Joe Jacob, Arkansasoutside.com
Saturday morning we witnessed many people in various stages of the thousand mile journey, including some who were taking that first step. The Go! Mile, in it's third year, is an event for everyone. We saw kids, barely beyond their first steps in life to folks in their seventh or eighth decade of running. There were people who strolled through the mile long course and elite runners pushing record times.
The venue was Burns Park, starting in one of the parking lots in the center of the soccer complex, runners headed out under the cottonwood trees to circle the area clockwise before coming into the shaded finish line. Music was playing from the speakers of race timing specialist Mac's Race Timing and repeating his role as master of ceremonies Jeff Matthews was on hand as people lined the finish chute cheering and clapping.
Many running events tend to be about getting from point A to point B as fast as possible and then being done with the event. Runners might leave immediately after finishing the race or maybe stick around for food and chatting but the event is over when the race itself is over. The Go! Mile is different, the brainchild of Gary and Erin Taylor of Go! Running, this race keeps the participants involved in the races of their friends and family. With the races starting in seven different heats separated by age and gender, family and friends who would normally be running at the same time, are able to watch and cheer for each other before or after their own race.
Continue reading at: www.arkansasoutside.com