JDL Fast Track Bringing Back the Mile (and Bringing the Talent)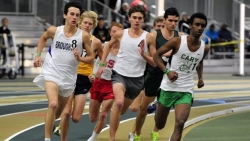 January 19, 2013
Races like this one from the NCRunners Elite Holiday Invitational are part of a national trend that has historical roots.
By NCRunners
First, the were elite high school Mile races at the NCRunners Elite Holiday Invitational. Next comes the Camel City Indoor Mile, scheduled for February 2nd as part of the Hilton Garden Invitational. Is this an intentional pattern of running the Mile instead of the 1600 meters at the JDL Fast Track, or is it just a novelty? According to Craig Longhurst, the director of the facility, the use of the classic English and American race distance is no accident. In addition to bringing top-notch talent to the JDL, Longhurst feels some affinity for the "Bring Back the Mile" movement, which is growing in strength across the country.
The iconic distance has fallen largely by the wayside over the last 20 years, replaced internationally by the 1500 meter run and in American high school competition with the 1600, but neither of those races has the history of the Mile.
Continue reading at: milesplit.com