Jeff Bauman Finishes First Race Since Boston Bombings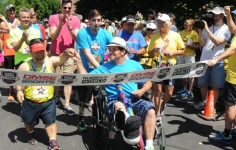 July 19, 2016
Survivor crosses the Runner's World Classic Celebrity Mile finish line pushing the man, Carlos Arredondo, who came to his aid.
By Brian Dalek, Runner's World
At this year's Boston Marathon, Jeff Bauman waited patiently for his wife, Erin, as she completed the race. It was one of the most inpirational stories from the race because it was the finish-line reunion the duo wanted three years earlier, in 2013, when Jeff lost both his legs in the bombings while waiting for his then-girlfriend.
Jeff has now crossed his first finish line since the day of the bombings. Along with 27 other notables from Boston, Jeff completed the Celebrity Mile at the inaugural Runner's World Classic series of races in North Andover, Massachusetts, on the campus of Merrimack College. He walked the mile on his prosthetic legs and afterward spoke with Runner's World Editor-in-Chief David Willey.
"It felt amazing after the halfway part when everyone was walking behind me," Bauman said. "It made me really try to keep my pace up. I was at I think a 13-minute-per mile [pace], which isn't bad for a guy with no legs."
Continue reading at, includes finish video: www.runnersworld.com