Jim Ryun thrilled to see prep Milers breaking the 4-minute mark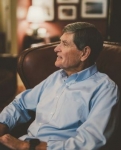 June 17, 2022
"I think they realize it's not a barrier that can't be broken, it's more of a matter that if you break it will you go on from there..."
By Ashley Conklin for World Athletics Championships Oregon22
A record five U.S. high school boys have combined to break the coveted, revered 4-minute Mile mark seven times in 2022.
Perhaps no one has enjoyed it more than Jim Ryun.
Ryun was the first high school boy to break the 4 minutes in the Mile as a Kansas 17-year-old in 1964 and went on to a legendary track & field career that included three Olympic appearances in the 1500m, a silver medal in the 1968 Mexico City Olympics, and numerous American and world records.
Ryun's name always surfaces when a high schooler dips under 4 minutes in the Mile. And in 2022, his name has been coming up a lot.
The legend's career was also in the spotlight earlier this month when he was one of 30 former college track & field athletes inducted into the inaugural class of the USTFCCCA's Athlete Hall of Fame in conjunction with the NCAA Championships in Eugene, Ore.
The original 4-minute high school barrier breaker celebrates the resurgence of American high school distance running and says for too long runners were held back in fear of what would happen if they ran under 4 minutes for the Mile.
"I think they realize it's not a barrier that can't be broken, it's more of a matter that if you break it," Ryun said, "will you go on from there, which you can because we're seeing more and more of them that are doing that.
"It's not the barrier that it once was, should never have been there. For a long time, there were three of us. Myself, Marty Liquori and Tim Danielson. We were the only (sub) 4-minute Milers from high school for years and I think it was the result of people being afraid of that, and coaches saying if you run too fast, too soon you'll never make it very far."
Growing up, Ryun often wondered if he would ever be successful in an athletic endeavor. He tried basketball and football and was cut from his church baseball team. At a high school assembly, Bob Timmons, the school's track & field and cross country coach, encouraged students to run on his cross country team in the fall.
Ryun had never run more than one lap around a track before joining the cross country team, but in one season at Wichita East High School, he went from the last runner on the third-string team to a 6th-place finish at the Kansas State Meet.
"Running was so new to me, I didn't know who the heroes were," Ryun recalled. "In fact, my first thought was I wanted to be a baseball, football, basketball player. Running, what's that? So, it took a while. The first book Coach Timmons gave to me was about Emil Zatopek, the great Olympian, so I read that, and it began helping me understand about the sport."
Ryun said Timmons was convinced he could be the first high school runner to break 4 minutes in the Mile. That came true on June 5, 1964, when Ryun ran 3 minutes, 59.0 seconds to finish eighth at the Compton Invitational in Los Angeles.
"The goal originally was my coach's because I was the kid that got cut from the church baseball team, didn't have great talent and when I started running, I was looking for direction," Ryun said. "And he began basically teaching me about goals, how to reach goals, and gave me workouts to get there. The night that I ran 4 minutes, 3:59.0, I didn't sleep that night (before) because I realized that it was his goal.
"But my thought was, what happens if I take ownership, ownership being there's certain things you as an athlete know you could do like maybe a little extra weightlifting, better eating. It was a transformational moment, because I mean when you finish eighth in a race and become the first kid to run under 4 minutes, that has to change your life – and it did."
Ryun's running career took off from there. As a high school junior, he made the 1964 U.S. Olympic team in the 1500m that went to Tokyo and was the last U.S. high school men's track & field athlete to make the U.S. Olympic team until teenager Erriyon Knighton qualified for the 2020 Tokyo Olympics in the 200m and finished fourth there.
As a high school senior, Ryun broke 4 minutes an annual record four more times. His time of 3:58.3 at the 1965 Kansas State Meet was the first time 4 minutes was broken in a high school-only meet. On June 4, 1965, Ryun returned to the Compton Relays, the site of his first sub-4 Mile and ran 3:56.8. A little over three weeks later, he ran 3:55.3 at the AAU National Championships in San Diego and beat New Zealand's Peter Snell, the 1964 Olympic champion in the 800m and 1500m.
Ryun, who would stay close to home and attend Kansas University after graduating from high school in 1965, roomed with a former Jayhawks great, Billy Mills, during U.S. training camps leading up to the 1964 Olympics. In Tokyo, Mills stunned the world by becoming the only U.S. athlete to ever win the Olympic 10,000m.
Continue reading at: worldathletics.org
U.S. high school sub-4 history HERE, 17 boys, including 12 since BBTM's 2012 launch!