Jordan Hasay to Mary Cain: Go to College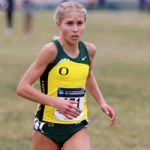 February 06, 2013
Former prep record holder says current prep record holder will benefit from collegiate running.
By Peter Gambaccini, Runner's World
Jordan Hasay has been where 2013 indoor track sensation Mary Cain is right now.
Cain, of course, is the Bronxville, New York high school junior who is the biggest American track story of the moment, smashing national high school records for the Mile, 3000 meters, and the two-Mile that had endured for decades. As a high school runner in California, Hasay won her first Foot Locker Cross Country crown in her freshman year, and made the 2008 U.S. Olympic Trials 1500-meter final after setting a national scholastic record in the semi-finals. That mark was broken last year by Cain.
Cain and Hasay, who is winding up her college career at the University of Oregon, will meet in a Mile at the Millrose Games on February 16. Cain's indoor Mile best of 4:32.78 is slightly better than the 4:33.01 Hasay ran in her victory at the 2011 NCAA indoor championships. "I think I'm in better shape than that right now," submits Hasay, who will "focus on having a good finish and staying relaxed early on" at Millrose.
Continue reading at: runnersworld.com