Kampf brings 'home-field advantage' to 1 Mile race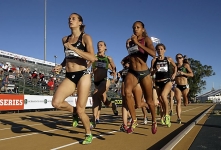 May 14, 2015
"There is something about racing in the Midwest and Minnesota. It's nostalgic and fun to be back there."
By Andy Greder, Twin Cities Pioneer Press
Scheduled to compete in races in Rome and Morocco in June, Heather Kampf is savoring the chance to run in front of familiar faces Thursday in USA Track & Field's 1 Mile Road Championships hosted by the Medtronic TC 1 Mile in Minneapolis.
Kampf, a Rosemount native and former Gophers running star, will have many friends, family, running cohorts from Mill City Running in Minneapolis and girls she coaches on the Apple Valley track team cheering for her.
"It's really nice to feel that you have that home-field advantage," Kampf said.
Kampf is one of the favorites to win the USATF women's race, while Winona, Minn., native Garrett Heath is a frontrunner on the men's side.
Continue reading at: www.twincities.com