Kankakee's first Olympian: Joie Ray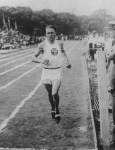 July 30, 2016
Multi-talented Illinois native won a record 8 national titles in the outdoor Mile
By Jack Klasey, Daily Journal
Joie Ray was a gutsy little guy who loved to run whether the opponent was a Kankakee streetcar or a field of world class runners in the Olympic Games.
Although he was only 5-foot-5 and weighed just 118 pounds, Ray was a fierce competitor whose powerful legs drove him past larger and taller runners in the sprint for the finish line.
During his 18-year career as a runner, he held multiple world records, won 17 Amateur Athletic Union (AAU) titles, and competed in three Summer Olympics. By the time he retired from amateur competition in the late 1920s, his hardware collection totaled more than 450 trophies and medals.
In his early childhood years, Joseph William Ray seemed unlikely to survive to adulthood, much less to a career as one of the greatest distance runners of his time. Growing up in Kankakee, he was a frail and sickly child who endured bouts of measles, diphtheria and typhoid fever.
When he was 8-years-old, he discovered the YMCA (then located on the second floor of a business building on the north side of Court Street, just west of Dearborn Avenue). He worked hard to build up his strength and endurance; within two years, he was running, boxing, wrestling and lifting weights. The weight work helped him develop a physique that earned him the nickname "Chesty" in his early competitive years.
He dropped out of school after the eighth grade and went to work in a local dairy. As a young teen, he ran everywhere, mile after mile. A regular routine was to race against the Kankakee trolley car in its two-mile route from Electric (now Beckman) Park to Court and Schuyler in downtown Kankakee.
Ray nearly always won the race.
His first organized competition was in Chicago, when he ran in a 5 mile race in 1910. The 16-year-old, competing against a field of more experienced runners, came in third. Only two months later, "The Kankakee Kid" won his first 5 mile event, setting a new record for that distance.
That feat attracted the attention of the prestigious Illinois Athletic Club. Ray was asked to join the club, and spent the rest of his career wearing the IAC's colors. By his 21st birthday, Ray was established as one of the best, if not the best, middle-distance runners in the world. In distances ranging from one-half mile through 5 miles, indoors and outdoors, he won race after race and set or tied record after record.
The year 1920 brought the Summer Olympics in Antwerp, Belgium, and Ray competed at one of his best distances, 1500 meters. Hampered by a pulled tendon, he finished in eighth place with a time of 4:10, some 13 seconds slower than his previous best time.
Four years later, in Paris, he won a bronze medal in the 3000 meter team race. It would be the only Olympic medal in his collection.
In the mid-1920s, Joie Ray began running in longer distance events, such as 10,000 meter races and marathons. Ray also took part in the fad of marathon ballroom dancing, where couples competed for days and even weeks with minimal rest to win cash prizes. On April 19, 1928, he ran in the Boston Marathon, shortly after finishing a dance marathon that had lasted 1,730 hours. He took third place in the marathon with a time of 2 hours, 41 minutes.
Four months later in Amsterdam, Ray was the leader for nearly 25 miles in the Olympic Marathon, only to fade in the final mile and finish in fifth place. He did, however, best the time he had set in Boston, finishing the Olympic event in 2 hours, 36 minutes.
Continue reading at: daily-journal.com
World & U.S. Mile record progressions HERE.