Keeping commitment to GOAL still important for Alan Brogan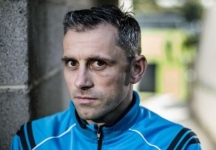 December 23, 2017
Former Dublin football star ready to join thousands including legend Eamonn Coghlan and his son John in annual charity Mile series
By Ian O'Riordan, The Irish Times
The first time Alan Brogan ran the GOAL Mile he cared less about the charitable aspect and more about beating his brothers. Things have changed since then – except for the beating his brothers part.
Because now as a patron of GOAL, Brogan understands a lot more about why the event started in the first place: this being its 36th year, and set for 130 venues over Christmas, the GOAL Mile has grown up in other ways too.
"I started running it when I was eight or nine years old," says Brogan, "and at that stage there was still the one GOAL Mile across on the Belfield track at UCD. So my dad [Bernard senior] used to bring myself and Bernard across on Christmas morning to run the Mile.
"I always remember driving across the city, not a sinner on the road, and rain, hail or snow we wouldn't miss it. It developed over the years into a real family thing. My dad's brother started coming along, and the whole extended Brogan family.
"And there would always be the bit of competition with myself and Bernard, my other brother Paul, and a couple of cousins as well. I think for the first time my brother Bernard beat me last year, so maybe that's what happens when you've gone a year without playing for the Dubs. Bernard was always quicker over the 20 meter sprints, but I usually came out on top in the Mile.
"My dad would have know John O'Shea over the years, and that's where it all started. And I think as well for my dad it was to show us there's more to Christmas morning than just presents, and toys all around you, and that it's about giving something back as well, to other parts of the world, and to keep things in perspective."
Continue reading at: irishtimes.com