Kodiak's Dunbar Submits Sub-4 Minute Mile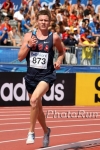 July 15, 2013
Dunbar clocks 3:59.06, first Alaskan under "magical" barrier; also surpassing his father's 1993 state Mile record of 4:00.58
By Kevin Wells, KTUU Sports
ANCHORAGE, Alaska — Trevor Dunbar, who was a high school cross country and track and field standout at Kodiak High School, became the first Alaskan to run a sub-4 minute Mile on Monday.
Dunbar clocked a time of 3 minutes, 59 point 6 seconds at the Roughrider Twlight Meet in Portland, Oregon.
Dunbar will be entering his senior season at the University of Oregon in the fall. While in Eugene, he has evolved into one of the nation's best distance runners.
In 2012, he qualified for the U.S. Olympic Trials. Dunbar tuned up for his big night as a sub-4 minute Miler by runing a 3:38 in a 1500 meter race last week.