Leo Manzano headed to World Championships with Team USA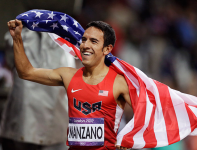 July 02, 2015
"You can be the best guy coming into those races, and then for some reason, something happens....When you make it to the final, just believe because anything can happen."
By Jennifer Fierro, Daily Trib
Marble Falls High School graduate Leonel Manzano made his seventh Team USA squad June 27 during the USATF Outdoor Championships in Eugene, Ore.
The World Championships are Aug. 22-30 in Beijing.
But making this squad might have been one of the toughest challenges of Manzano's career.
The former Granite Shoals resident, who won a silver medal at the 2012 London Summer Olympics, finished third in the 1500 meters in 3 minutes 38.76 seconds. Matthew Centrowitz won the event in 3:37.25, while Robby Andrews was runner-up in 3:38.75 and Ben Blankenship came in fourth in 3:38.78.
Continue reading at: www.dailytrib.com