Lexy Halladay runs nation-leading time to win adidas Girls' Dream Mile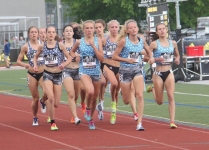 June 05, 2017
"I am so excited and happy. That time, I knew I could get it, but I wasn't sure if it would be this year."
By Rachel Roberts, Idaho Statesman
In an invitation-only race featuring many of the nation's top high school Mile runners, Mountain View High freshman Lexy Halladay came away a winner.
Halladay won a sprint to the finish over the final 100 meters to win in a nation-leading time of 4 minutes, 41.80 seconds at the adidas Girls' Dream Mile at Dilboy Stadium in Somerville, Mass.
Her time also breaks the freshman national class record of 4:42.0 set by Mary Decker in 1973.
"I am so excited and happy. That time, I knew I could get it, but I wasn't sure if it would be this year," Halladay said. "That was just the perfect race, perfect conditions. I mean, it was a little windy, but I couldn't ask to have run it any better."
Continue ready at: www.idahostatesman.com