Looking for a Winter Challenge? PR the Mile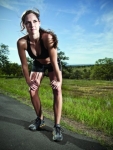 January 07, 2018
Training for the Mile can become complex at the highest levels of performance, but the fundamental challenge lies in making the goal pace sustainable for the race duration.
By Sarah Barker, Triathlete.com
It's the end of tri season and the brick is broke. It's dark at both ends of the day, and the Saturday long ride has all the appeal of a tax audit—it's time for the season to be over. But pretty quickly, the dream of doing the great big nothing has lost its luster.
Let me introduce to you the old school, 4 lap, President's physical fitness, Roger Bannister throwdown: The Mile. It's got history; it can be done indoors; neither the training nor the race itself take much time; and the speed and intensity required will make you feel frisky when you resume training while still providing a break from the in-season grind.
Coach Drew Wartenburg knows a thing or two about the Mile. He has coached mid-distance Olympians and sub-4:30 Mile aces Kim Conley and Kate Grace, and agrees, when it's not normally your thing, training for the Mile can score big benefits—physically and mentally.
"From a physiological standpoint, the blend of aerobic strength and Mile speed and power can involve neural and muscle recruitment often allowed to stagnate when targeting paces for long, purely aerobic race efforts," Wartenburg says.
So, training for the Mile, even for a month or two, can refresh those speedy neural pathways that might otherwise go fallow. Train on the treadmill, the local high school track, or a stretch of road you've measured.
Continue reading at: triathlete.com