Mackenzies sweep 15th Wilber-Duck Mile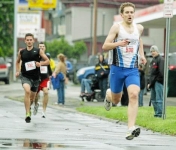 May 20, 2014
"If anything it takes some pressure off when you see your wife win first. I was like 'okay, I can rest on her laurels if I need to today.'"
By Kyle Mennig, Oneida Daily Dispatch
Heavy rainfall throughout the day Friday threatened to turn the 15th Wilber-Duck Mile from "Central New York's Fastest Mile" to CNY's soggiest.
It didn't bother Sam and Natalie Mackenzie one bit.
With the rain fading to a light mist, the husband-wife duo from Syracuse swept the races for the second time in three years on Friday. Natalie first took the women's Mile in 5:04.76 and Sam followed with a time of 4:41.37 to win the men's event.
"It was fun," said Natalie. "It was a blast. I love this race."
She has good reason to, taking first for the fourth straight year. Friday's time also marked her fastest in the Wilber-Duck Mile.
Continue reading at: http://www.oneidadispatch.com