Main Street Mile to celebrate 10th edition on Oct. 1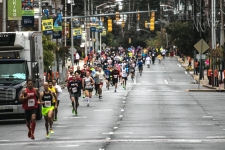 September 23, 2016
Being part of a group is powerful, and for an event like the Main Street Mile, it can spark motivation, sometimes in unexpected ways.
By Nic DeCaire, Newark Post
I've driven down Main Street almost every day for the last 10 years. In that time, I've watched the landscape change along with the seasons.
Old buildings have gotten a facelift, while new ones have risen from a hole in the ground. Part of Elkton Road is now South Main Street. There's even a new stoplight this year.
But the distance down the heart of Main Street is still the same — just over one Mile.
It's a Mile that means a lot to me.
Ten years ago when I opened Fusion Fitness Center, I wanted to host a charity event to raise money for a local organization. I wanted it to be unique.
What's nice about the Main Street Mile is that just about anyone can do it. A 5K requires some training, but one Mile is just far enough to push yourself.
Continue reading at: www.newarkpostonline.com