Making the Most of Your Mile: Grand Blue Mile 10th Anniversary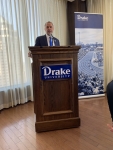 April 21, 2019
Event again hosts USA 1 Mile Road Championships as well as BBTM Grand Prix Tour opener; Drake Relays event director Blake Boldon discusses its 10th anniversary, marketing innovations, elite fields, his pups and more!
By Bring Back the Mile
The USATF 1 Mile Road Championships return to downtown Des Moines for the third consecutive year and 2019 also marks the 10th anniversary of the Grand Blue Mile. The Grand Blue Mile Street Run, set for Tuesday, April 23, also opens the BBTM Grand Prix Tour 2019 presented by Running Warehouse, boasts a prize purse of more than $30,000, and with an estimated 4,000-plus entrants, it is the third largest competitive Mile in the country.
The Tuesday evening Mile once again welcomes top fields headlined by Heather Kampf, three-time Grand Blue Mile champion and rising stars Shannon Osika and Nikki Hiltz. The men's field is led by Tripp Hurt, Will Leer, Nick Harris and defending BBTM GP Tour champion Daniel Herrera.
We sat down with Franklin P. Johnson Drake Relays Director Blake Boldon for our now annual conversation to discuss the 10th anniversary, its always evolving marketing, the event's baramoter on which athletes can make a splash on the national scene, and making sure he gets home before his dogs chew up the whole house.
BBTM: This is your third year as the Director of the Drake Relays and this is the our third interview together. The streak has started.
Boldon: Hopefully we can find time to chat more than once a year.
Agreed. Are you seeing your home much these days or do you have a sleeping bag in your office?
I try to leave the office and get home by 8:30pm, fingers crossed that my dogs Pitch and Dutch are still okay after 12 hours at home and haven't chewed through everything.
What kind of dogs do you have?
One is part a rescue Australian Cattle Dog, part German Shepherd, as best I can see here. She's probably about 6-years-old now, and then I've got a puppy who's about a year-and-a-half, but acts like he's about six months old and just has more energy than you can handle. His dad is Australian Shepherd and his mom is a French Bulldog; both purebreds. Sort of an accidental breeding on the farm down in the Ozarks.
Lots to celebrate this year at the Grand Blue Mile. You're once again the BBTM GP Tour season opener plus celebrating the event's 10th anniversary. It seems like you have gone all out on the marketing front for it.
The registration and excitement all along has been unbelievable. When I was the executive director of the Monumental Marathon in Indianapolis, we started a road Mile and I learned then that getting a thousand people to one place at the same time and register to run a road Mile is a challenge. If anyone then had ever told me that I would be able to get 2,500 people to register in 48 hours I don't think I would've believed it.
It speaks to the quality of the event and the commitment that everybody here in Des Moines have to the Drake Relays, but also to the commitment to that experience and really making it a special event for the community.
You've also been pounding the pavement throwing out first pitches and even playing with the Harlem Globetrotters.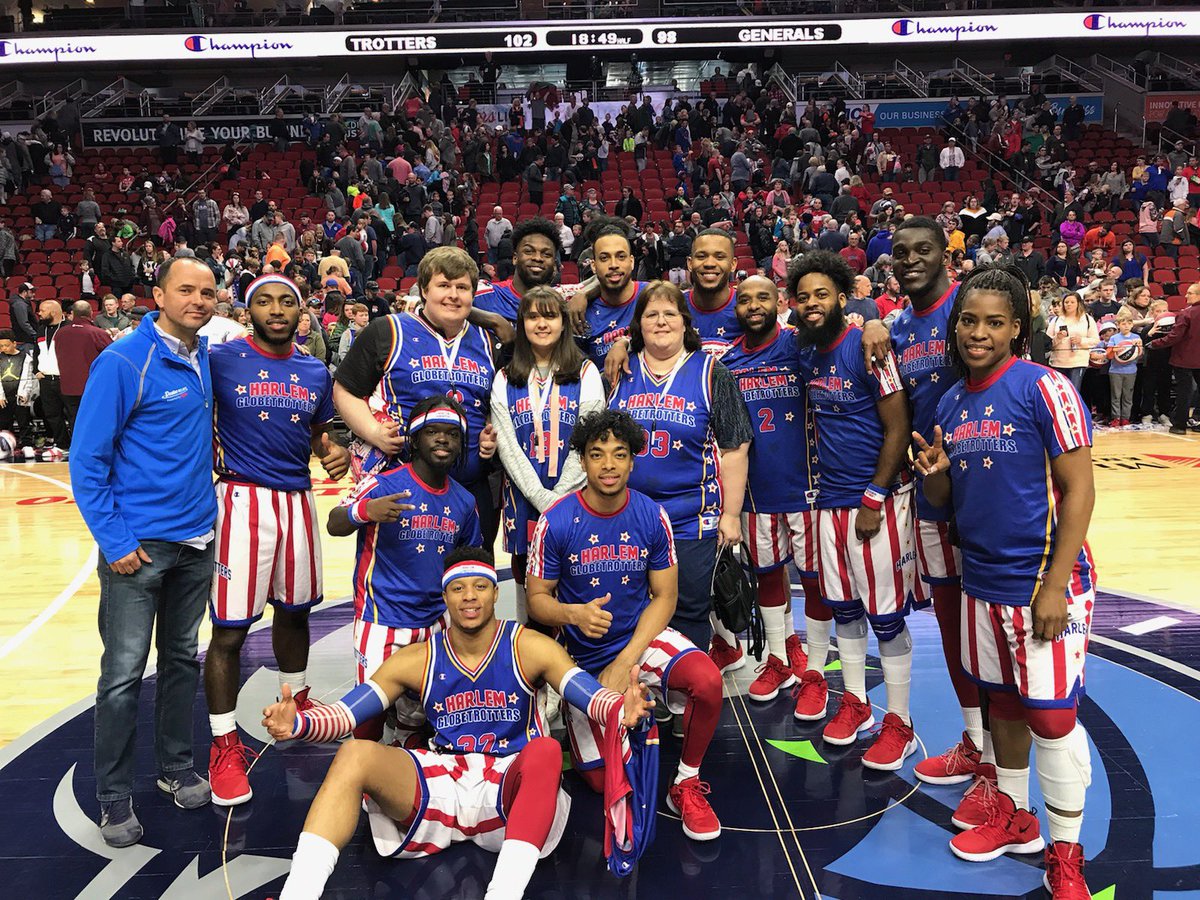 The magnitude of the event on a global scale, really sets it apart from all of the various select Track & Field meets, probably in the world, but certainly in the Midwest. When you boil that down and you put it in a state of 3 million people or a metro area of 600,000, it really offered the opportunity to engage every single resident, and that's our aim. That's certainly what our partners at Wellmark Blue Cross Blue Shield, aim to do as well. Obviously, they strive to do this in the services that they provide, but they also strive to do that with our partnership and to find ways to engage every household to get them healthy & fit.
We have corporate support and sponsors that allows us that platform in a market that doesn't have a long list of known worldwide events. There's not a lot of global events anywhere in the U.S. really that are not in the top 30 markets. In our sport, we are really unique in that for four or five days here, it pays very close attention to what happens in Des Moines, Iowa. That's not just for Milers and people on the Bring Back the Mile circuit. It's the Japanese federation sending athletes for the Drake Relays. This year the NACAC Secretary General Micharl Serralta will be here to experience the Vault at Capital Square and the whole week of festivities.
It's certainly a time that our community celebrates Track & Field, but also our sport.
If you weren't a runner would you have been a better pitcher or basketball player?
I think of all the things that I was doing that weekend, I was probably best suited for watching hockey and just sitting in the stands drinking a beer. I think I did the best in the stands.
Once again the marketing seems to have draped the town in the Drake Relays. I noticed Heather Kampf, the Queen of the Road Mile, even got her own bus.
100 percent. Wellmark Blue Cross Blue Shield did a whole run with the buses, which was really exciting. In addition to all the public appearances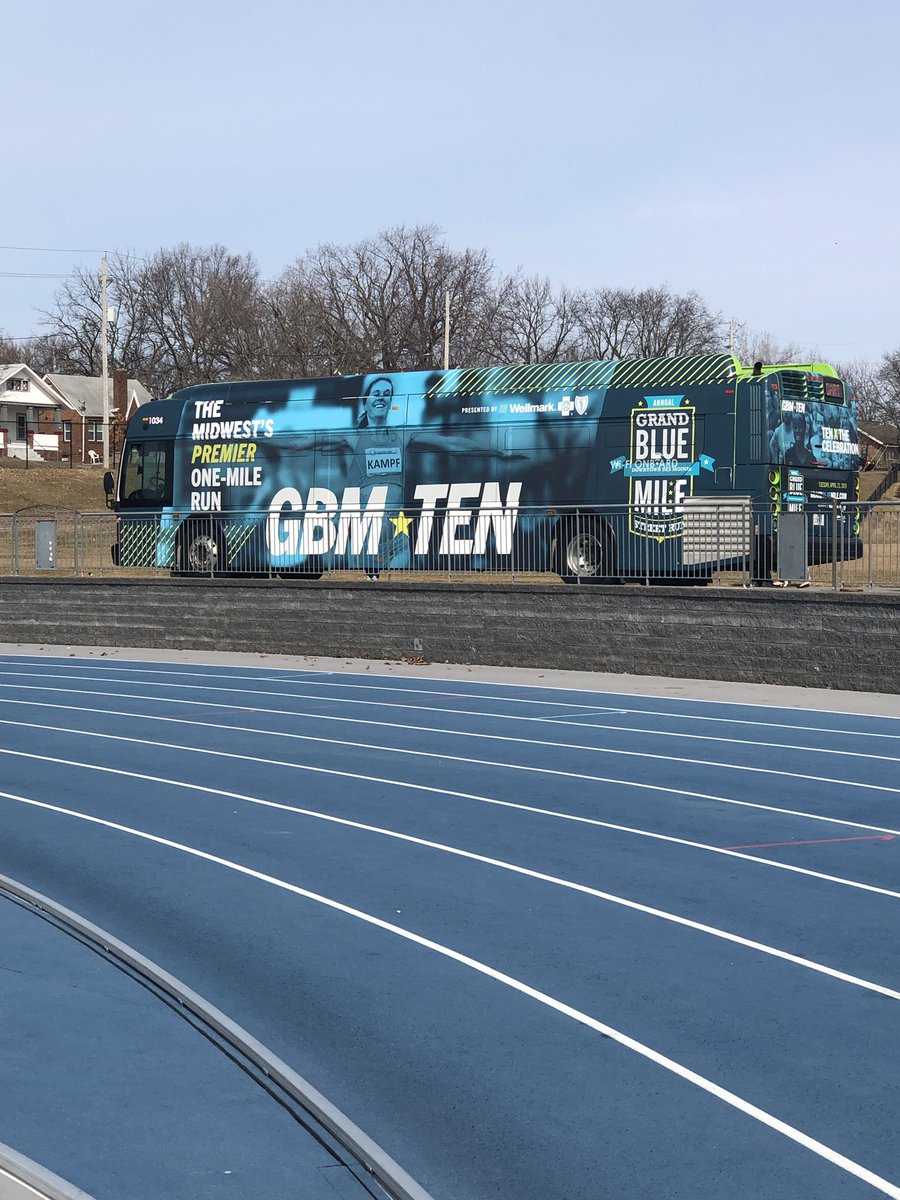 I did, I also did a lot of press, including five radio interviews at different stations in a single day as well as eight media outlets across the entire state. At one of those interviews I was sitting in a studio that looks out onto the course of the Grand Blue Mile; one of the big radio stations in Des Moines, STAR 102.5. Their studio has a window that looks out at roughly the quarter-mile split and as we're talking live on air, here comes the Grand Blue Mile bus down the road. We're making eye contact with Heather Kampf; "Oh, hey Heather." This particular bus route that they picked is called the D route, which stands for downtown and is a free route.
It's really fitting that Heather will have circuited the Grand Blue Mile course probably a thousand times before she runs it this year! Heather is a three-time champion of the Grand Blue Mile and we can't even count how many titles she won as a collegiate at the Drake Relays. It's probably over a dozen.
What else excites you for race week?
Last year we created a Relays Health & Fitness expo that was in conjunction with packet pickup, so we're looking forward to continue to expand what we offer during the week, including interactions with the elite athletes at our various events. One example is Wellmark Blue Cross Blue Shield's green screens to allow people to take customized, free photos as well as offering free race photos to everyone crossing our finish lines.
With the Mile distance in particular, Wellmark Blue Cross Blue Shield, sees it the same way you and I see it as athletes: it's a chance to push yourself and really perform at a level that is compelling for spectators. But, they also see it as a gateway for greater fitness opportunities. People who take on the MIle may come back for a 5K or crossfit or whatever their next activity is, whether that's cycling, walking, jogging, swimming or any exercise. Let's get people started with the Mile. That's really their incentive for supporting the elite athletes and making sure that we have a high level competition that inspires, but also all the fun activations like the green screen that you can get a goofy or fun picture in front of with your family.
Another new component this year is the Relays Wellness Challenge.
Yeah and we saw that grab a lot of traction right off the bat. There's lot of energy amongst companies and that has been a nice new element sustaining our growth. We're trending toward more than 4,000 entrants. When you can see that type of growth, 20 percent year-over-year, even after last year's record finisher numbers, it's really exciting. A part of that growth has been the support of Wellmark and what they're doing to create a healthier community here in Iowa. Other executives are seeing that and wanting to have their employees be a part of it: "Let's get involved and get our employees out there as a group."
We might have employees running the Half Marathon or 10K, but you can also come out for a one Mile walk or jog on Tuesday evening.
At the elite level this is an interesting year with USAs and the World Championships so late on the summer calendar. You've still managed to put together exciting fields.
One thing I would say about the men's side and we saw it last year with guys like Tripp Hurt and then Nick Harris and certainly Daniel Herrera, I don't think anyone would've predicted them to be in the top ten. And all of a sudden they're racing along side Eric Avila, Garrett Health, Riley Masters and with 100 meters to go it's anybody's race. We provided the opportunity for a lot of these guys to get not only their first shot at a USA Championship, but to have a breakthrough in doing so. Being on the road we can have bigger fields than you might on the track and also being centrally located in the country makes it so there are a lot of people that are hungry for that first opportunity to come and get a good shot at a national title.
To your point, Daniel Herrera went on to win the BBTM GP Tour last year; he was very consistent on the roads, while Emily Lipari won in the Tour 2017 and defended her Tour title last year.
Yeah and this year's fields I think are no different. I'm sure Daniel, Emily and others are hungry to repeat their performances, but we have plenty of others such as Shannon Oskia, who had a great indoor season. When I was still competing and would to talk to Nick Willis, one thing that will always stick with me is that he said that "You're not what your PR is. You're what you've done five or six times."

In the Mile in particular you identify with your PR, but really, you're not that until you've done it four, five, six times. What Shannon has done is she has run just on the edge of her really being top elite and I think it's just a matter of time. She's really headed to reach that next level.
Nikki Hiltz is another to watch with what she just did in Boston as well as Hannah Fields, a favorite here at the Drake Relays. A lot of people may not remember that she ran at Oklahoma Baptist, an NAIA school, and she put on a show here demonstrating that she's at the national level. Another NAIA athlete that could surprise some people this year will be Anna Shields who is a 5-time NAIA athlete of the year.
Then we have Heather Kampf, who unfortunately was hurt in 2017 & 2018, but she is a three-time event champion. She's not from Des Moines, she's from Minnesota, but she's got her name all over this course and you can never count her out. And we haven't even mentioned the defending champion, Emily Lipari, who defeated a world class field last year. I don't know if there's anybody you can count out.
Many of the athletes will return to compete in the Blue Oval over the weekend and you have Eric Sowinski also taking another stab at a sub-4 Mile.
It's going to be really great for Track & Field fans. The guy has made 13 consecutive USA Championship finals. That's unbelievable and to have that level of consistency through all the rounds at U.S. Olympic Trials, national championships, indoor and out; it's truly amazing. But, he's never broken 4 minutes.
I would have lost that bet without having looked it up first.
Yeah. Well, who wouldn't? He's a Hawkeye, trains in Iowa City, he's really terrific. He gets involved with the high school coaches and is a part of the Iowa Association of Track Coaches. He gives back, he's involved in the running community in Iowa City. This is the model of what you would want to see in a professional athlete anywhere in the country. He hasn't taken a bigger check to move to a training group or relocate. He's stayed true to his college coach, Joey Woody, and his routine in Iowa City; it works. It's worked as well as it has worked for anybody, anywhere, ever. He's from Wisconsin, but his home state over the last decade has been Iowa and he's taking a shot at that sub-4 here, which would be special.
Thank you again for all of your time, Blake. You guys are the center of USA Track & Field not only this weekend, but later in the summer to select World Championship teams. Good luck to your team, and we'll of course be following along.
Thanks and I look forward to catching up again soon.