Manzano earns measured revenge in Drake Relays Mile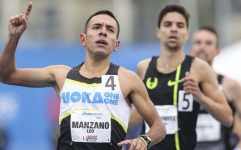 April 26, 2015
Leo comes back from 2nd place finish to Centrowitz at the Grand Blue Mile, duel featured more strategy than speed.
By Andrew Logue, The Des Moines Register
It took Leo Manzano just four days to even a score.
He'd finished second behind Matthew Centrowitz in Tuesday's Grand Blue Mile, but flipped the results Saturday with a triumph in the Drake Relays Invitational Mile.
Manzano, a 1500m silver medalist at the 2012 Olympics, crossed the finish line in 4:00.05.
"Every race is kind of its own little world," he said. "You never know exactly what's going to happen, especially on days like today when it's windy and rainy."
Continue reading at: www.desmoinesregister.com