Mary Cain Will Not Return to Oregon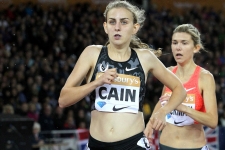 October 07, 2015
Teen phenom will stay in New York to train and study, but remains a member of Nike Oregon Project
By Peter Gambaccini, Runner's World
Mary Cain, the middle distance teen track star who turned pro in 2013 while still in high school, is remaining in the New York area instead of returning to Oregon this fall.
Cain spent the 2014-15 academic year in Portland, Oregon, attending the University of Portland and training with the Nike Oregon Project. She remains a member of the Oregon Project and her workouts are still being devised by coach Alberto Salazar, in conjunction with John Henwood, a 2004 New Zealand Olympian, who guides twice weekly workouts for Cain on the east coast.
"After a disappointing year, I knew that I needed a change," Cain wrote, on her blog. "For me, that meant returning home to New York (and its bagels)...With 2016 being such an important year, it's a blessing to be able to, as my mom says, 'go back to basics.'"
Cain, 19, is taking classes Fordham University, pursuing a chemistry major, and residing at her parents' home in Bronxville, New York.
Continue reading at: runnersworld.com