Masters Rips World #2 3:56.25 in the Mile at Tyson Invitational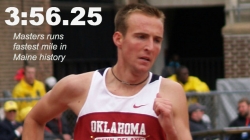 February 08, 2013
By Derek Veilleux, Maine TrackXC
Former Bangor HS runner Riley Masters currently at the Univeristy of Oklahoma, but running unttached this winter won the Tyson Invitational Mile at the University of Arkansas on Friday evening. Masters clocked a huge personal best of 3:56.25 in winning, the time currently ranks him #2 in the U.S. / World behind only Galen Rupp.
What does Masters think about the World #2 "I try not to invest too much into the stats like that. It's fairly arbitrary since it so early in the year. It will be cool to know I'm #2 tonight, I'm sure after that Mile in Washington goes off tomorrow I'll move down a few spots."
Before the race, Master's personal best was 3:57.74 run just 2 weeks ago at the BU Terrier Invitational in Boston, where he finished third in the same race Galen Rupp ran the 5th fastest indoor Mile of all-time (3:50.92).
Continue reading at: milesplit.com