McNamara to Defend Falmouth Mile Title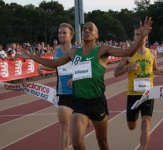 August 08, 2012
Six men who broke 4-minutes last year return plus David Torrence and Craig Miller for Saturday evening of six Mile track races; Bowman, Mackey, Anderson, Martinez headline women's field; Cochary High School Mile rewards winners with grant for "good choices"
FALMOUTH, Mass. – (August 8, 2012) – Falmouth Road Race organizers expect an electric evening of six Mile events on Saturday, August 11 at the Falmouth High School track. The top three men from 2011's blazing fast event, defending champion Jordan McNamara, Jeff See and AJ Acosta return to battle with nine other competitors including David Torrence and 2012 USA Mile road champion Craig Miller. For the women, Sarah Bowman, Katie Mackey and Gabriele Anderson arrive in Falmouth after placing in the top 10 in the 1500 meters at the Olympic Trials. Former Mile world record holder, Craig Blanchette, leads the men's wheelchair field, while the women's wheelchair field will be contested by five women who will compete the next day as well. The Cochary High School Mile will be stacked with the best from Massachusetts schools. The Mile events start at 6:00pm with the high school girls taking to the track first.
"The 2011 elite Falmouth Mile was one for the ages with ten men going under the 4-minute mark and five women going under 4:34," said Matt Auger, Assistant Race Director and Mile Coordinator. "This year we expect similar results while adding back the excitement of the wheelchair mile and the young stars of tomorrow with The Cochary High School Mile."
The high school mile has been renamed The Cochary High School Mile in honor of Tommy Cochary. The Falmouth summer resident was killed when the drunk driver he was riding with crashed in 1990. He was just 25-years-old. The Cochary family will also provide the winning high school boy and girl each with a $2500 grant to improve or change something at their school in athletics or overall wellness.
"As a family, we are dedicating the race to Tommy in the hope that young people will learn from our tragedy and make safe choices in their lives," said Tommy's sisters, Laura Majka and Elizabeth Cochary Gross. "The boy and girl who win the high school mile will bring a small grant back to their high schools to purchase equipment or implement a level of wellness in their school."
Six of the ten men who broke 4-minutes in the 2011 New Balance Falmouth Mile return to do it again. Last year, Jordan McNamara won in 3:54.89, an event record, followed by Jeff See in 3:55.24 and AJ Acosta in 3:55.30. They will be joined by Craig Miller (3:56.41 PR), Liam Boylan-Pett (3:58.19 PR, at Falmouth), Jack Bolas (3:58.31 PR) and Christian Hesch (3:58.68 PR at Falmouth). Sean Brosnan, 5th in 2010 will also be returning to the Falmouth track. Racing at Falmouth for the first time will be: David Torrence (3:52.01, fastest PR), Cory Leslie (3:56.85 PR), Garrett Heath (3:57.18 PR) and Ben Bruce (4:00.00 PR).
The elite women's field sees the return of last year's runner-up, Brenda Martinez, who was 12th at the Olympic Trials 1500m and has a personal best of 4:32.29. She'll be joined by Gabriele Anderson who just missed the Olympic team with a fourth place finish at the Trials in the 1500 meters. Anderson was fourth at Falmouth last year and has a 4:31.05 mile personal best. Also returning to compete is Sara Vaughn who was 6th at Falmouth in 2011. They will be joined by four ladies who make their Falmouth debut: Sarah Bowman (4:29.72, fastest PR), Katie Mackey (4:36.39 PR), Ashley Miller (4:39.11 PR) and Aisha Praught (4:35.96 PR).
Wheelchair racing will return to the Falmouth High School Track when former mile world record holder, Craig Blanchette will lead a field of ten racers around the Mondo track. Blanchette will be joined by New Balance Falmouth Road Race champions, Krige Schabort, Tony Nogueira and Patrick Doak along with Grant Berthiaume, Matt Davis, Michael Mills, Matthew Porterfield and James Senbeta. The women's wheelchair mile will be contested by Chelsea Crytzer, Tammy Delano, Maggie Frederick, Christina Kuoros and Jill Moore.
The Cochary High School Girls Mile will be contested by Camille Blackman (Longmeadow), Gianna Cacciatore (Whitman), Alex Giese (Franklin), Liz Holmes (Foxboro), Ella Martin (Woods Hole), Jordan O'Dea (South Dennis), Lauren O'Neil (Falmouth), Colleen Sands (Princeton), Mikhaela Tropp (Sandwich), Kelsey Whitaker (Kingston), Laura Williamson (Princeton) and Stella Worters (Charlton). The Cochary High School Boys Mile will be contested by Nick Christensen (Peabody), Tim Cox (Acton-Boxborough), Wesley Gallagher (Pembroke), Owen Gonser (Wrentham), Joel Hubbard (Marshfield), Justin Keefe (Newton), Brendan Robertson (Westborough), James Sullivan (Acton-Boxborough), Kevin Thomas (Marshfield) and Joe Vercollone (Pembroke).
The girls' field will include Ella Martin, 18, of Woods Hole who just graduated from Falmouth Academy. Without a team to compete with, Martin has had to find her own way into meets. She competed this summer in the New Balance Twilight Series which qualified her for the New Balance Outdoor Nationals in North Carolina. "She is probably one of the best runners around that no one has heard of" says her coach Ken Gartner of the Falmouth Track Club and Falmouth Hospital.
To learn more about the 40th New Balance Falmouth Road Race and Falmouth Mile, visit: www.falmouthroadrace.com, www.twitter.com/runfalmouth, www.facebook.com/falmouthroadrace
The New Balance Falmouth Road Race was established in 1973 and has become one of the premier running events of the summer season. Each year the race draws an international field of Olympians, elite and recreational runners out to enjoy the iconic 7-mile seaside course. The non-profit Falmouth Road Race organization is committed to promoting health and fitness through community programs and philanthropic giving.
Contact: Donna Tocci, (781) 929-9685
New Balance Falmouth Road Race
dmtocci@gmail.com